Cougar Nation: We need your help again. Bainbridge Elementary is looking for valuable team members to serve in the role as an Instructional Assistant for this current school year. Please share to individuals that might be interested. Thank you very much and have a wonderful day!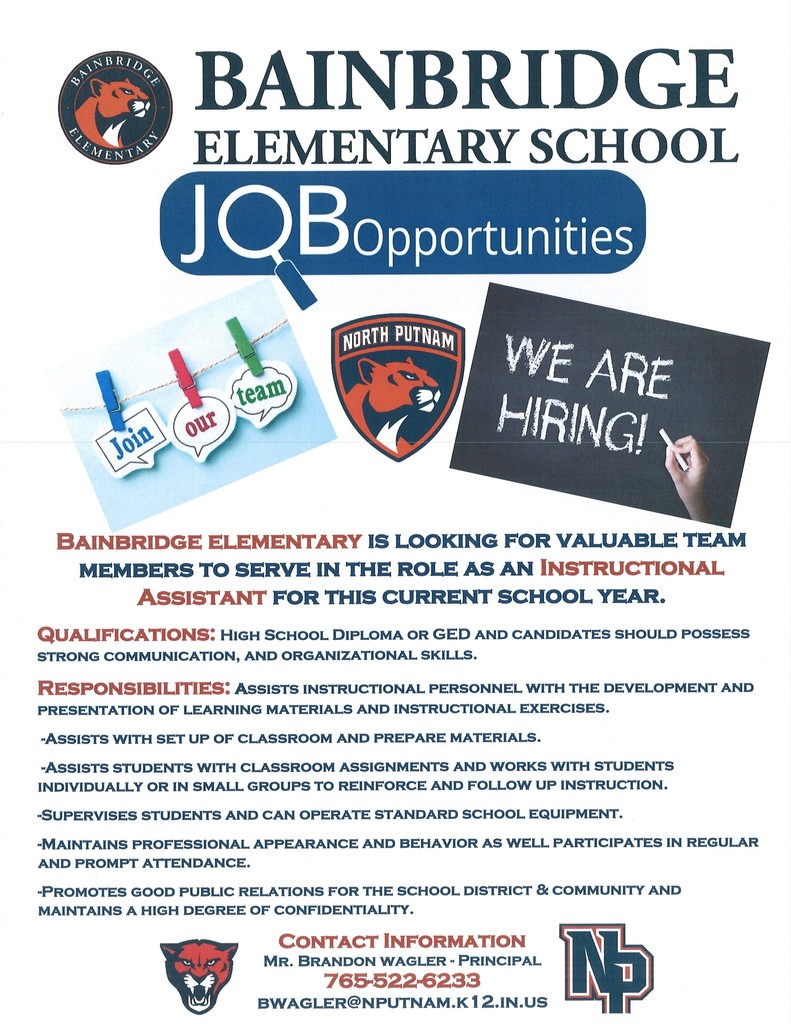 Due to the weather over the last 2 weeks, we have been unable to complete the seal and striping project to the north parking lot on the HS/MS campus. As shown in the attached image, there is a barrier set up in the middle of the lot and the east side of the lot is blocked off waiting for the 2nd coat of sealing and then striping. We would like parents to enter the lot the same as last year for dropping students off. Drop off at doors 7 and 8. And then turn right to exit along the north road next to the solar field. Students will enter any 1 of the 3 one way lanes for student parking. Staff can park behind the building or in the south lot. Thank you for your patience while we complete the project and have a great first day of school.

It is almost time for the first day of school and we are gearing up and excited for the new year to start. We are proud to introduce a new app for parents and students to be able to use to help bus pick up and drop off times. Click this link to find instructions on how to download the Versatrans My Stop app to your phone. Once downloaded, you will need your student's ID number which is found on the front page when you log into Harmony. When logged in you will be able to see your student's bus number, scheduled pick up and drop off time, and time to arrival to your house in real time. You will also be able to see where the bus is located when the bus is in route. Feel free to download and set up the app on your phone but know we will be making adjustments to the routes for the first week or so. We hope that this will give you more information about the safe transport of your students from home and school. Have a great year, Dr. Terry Tippin, Director of Operations

All corporation Welcome Back meeting Guest speaker, Kirby Kirkpatrick from Success Express, made us laugh and let us know how important we are in the lives of our students. We are ready to move with SPEED!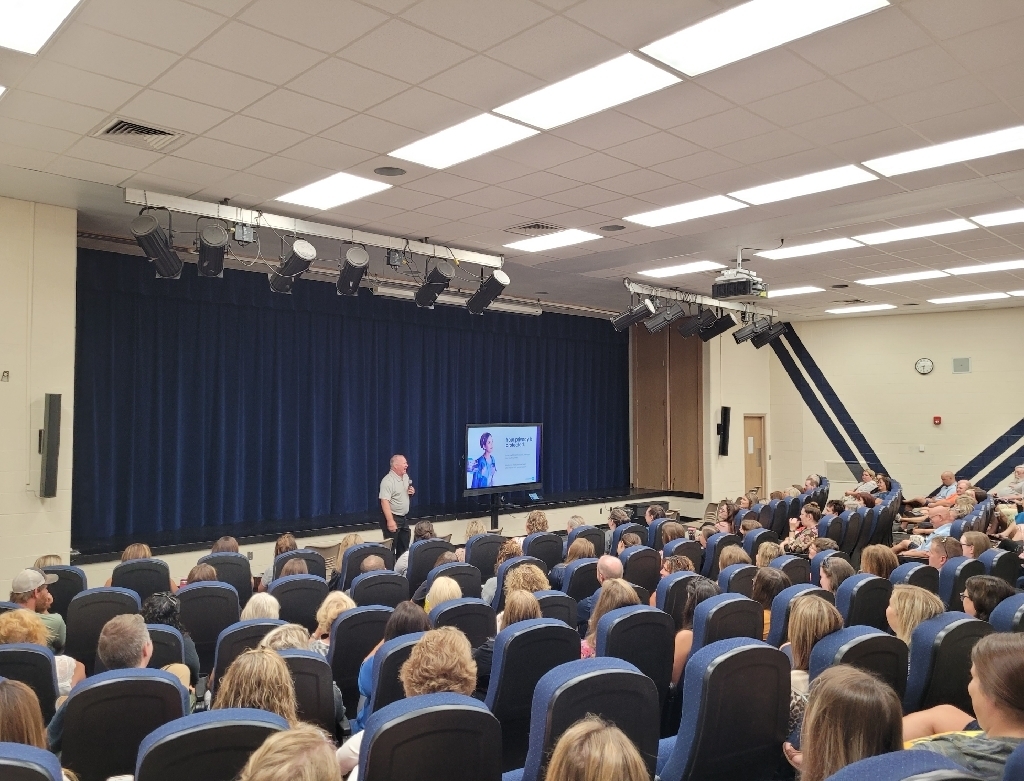 Preschool Meet and Greet - Thursday, August 11, 2022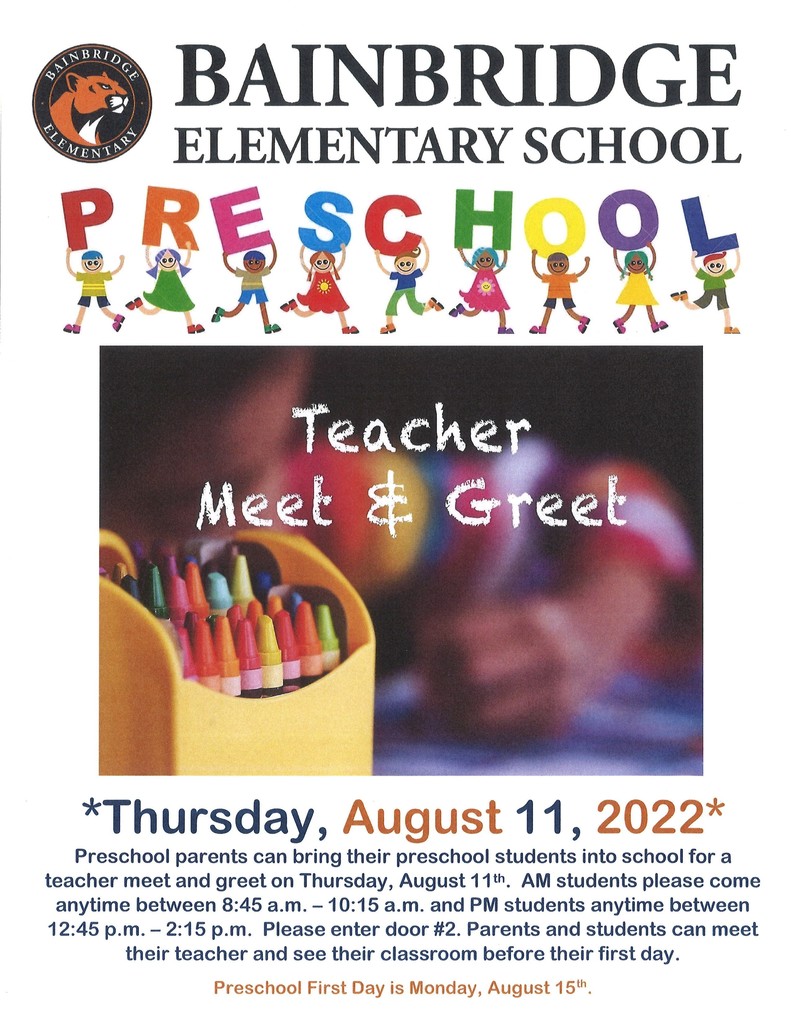 Good morning, Bainbridge Elementary parents, students, and other school community members. I hope today will be a fantastic Friday for everyone. Mr. Wagler emailed this newsletter out earlier this week, but we wanted to post it the Bainbridge Elementary Facebook page as well. Please enjoy!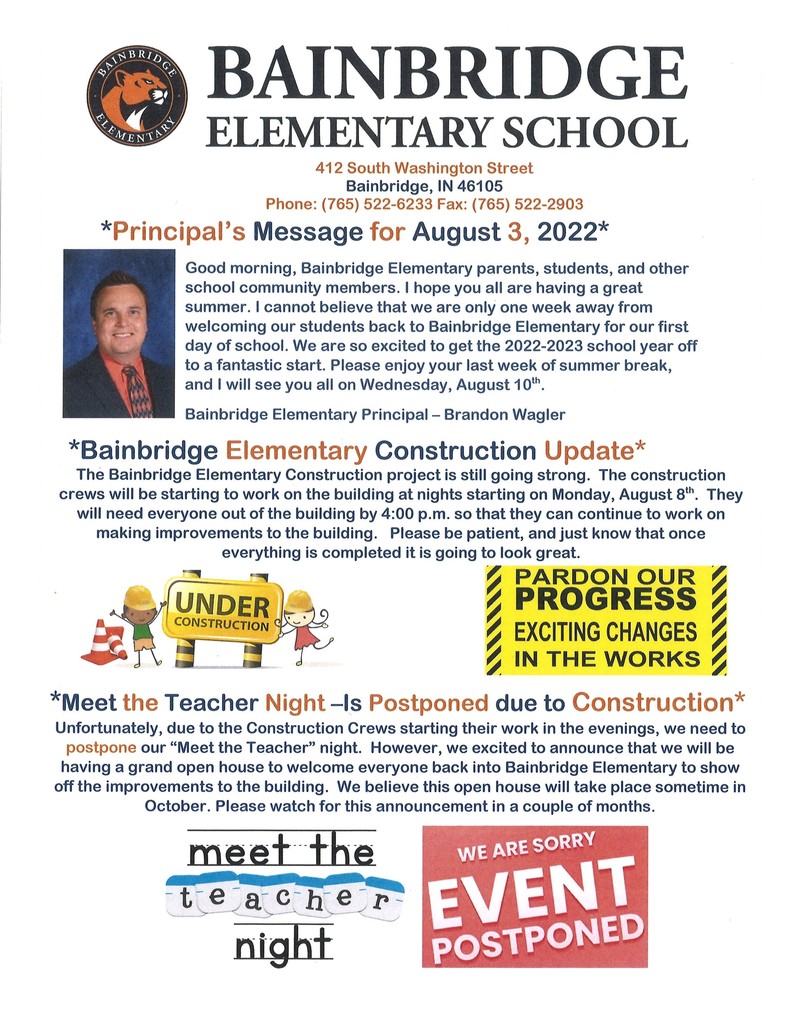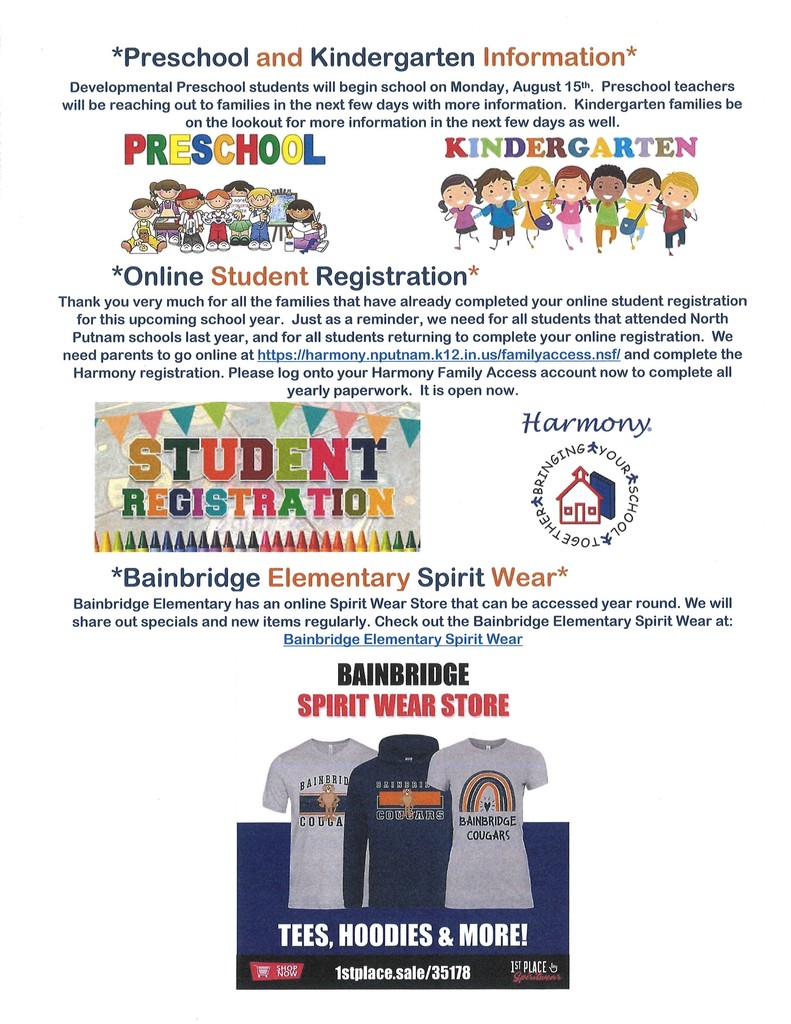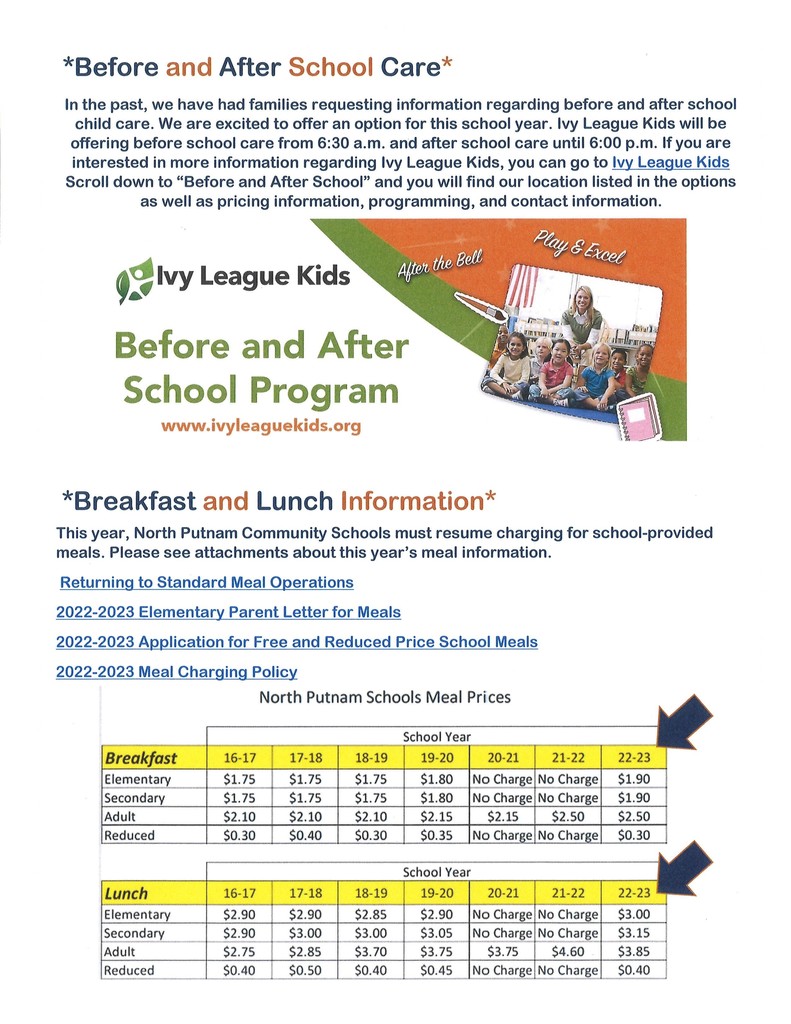 New teachers had a successful orientation day despite the power outage and stormy weather Monday. Be sure to complete online registration if you are a returning student or call your school's office if you are new to NP. see you Aug. 10!!

New Student Registration Information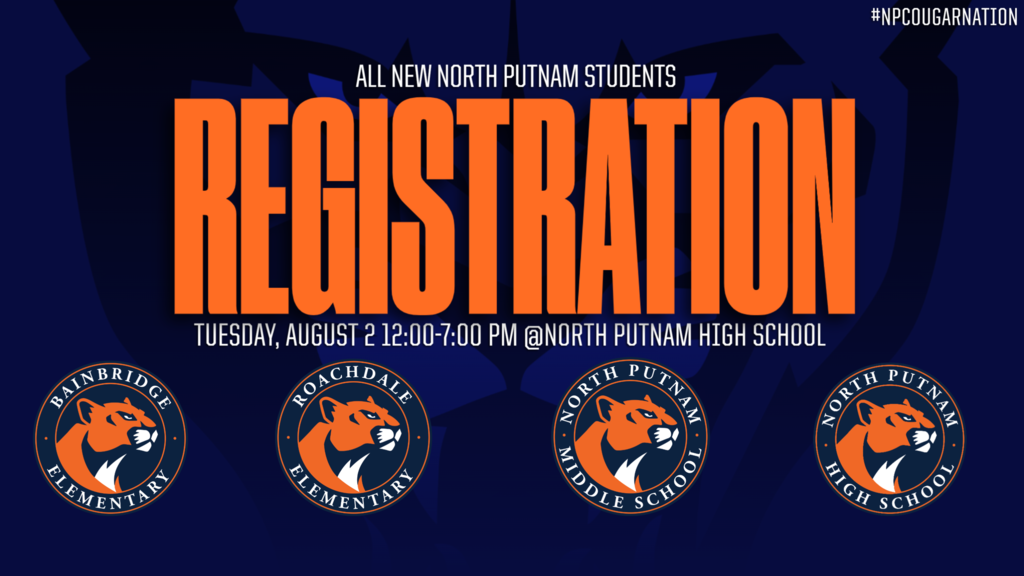 If your child needs immunizations for school, see this link from the Indiana Department of Health. Remember, your child will need to have all the required vaccines to attend school. This resource provides you with locations and what vaccinations are required for your child.
https://www.in.gov/health/immunization/catch-up-immunizations/

Bainbridge Elementary's First Newsletter for the 2022-2023 School Year. Please enjoy!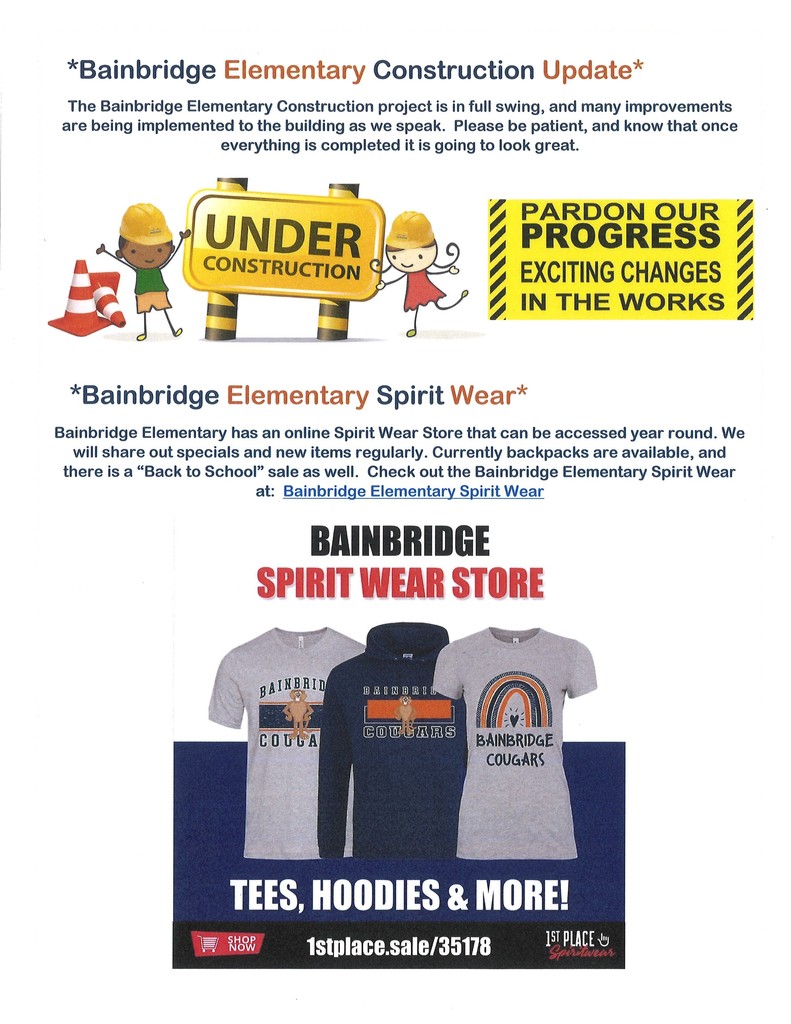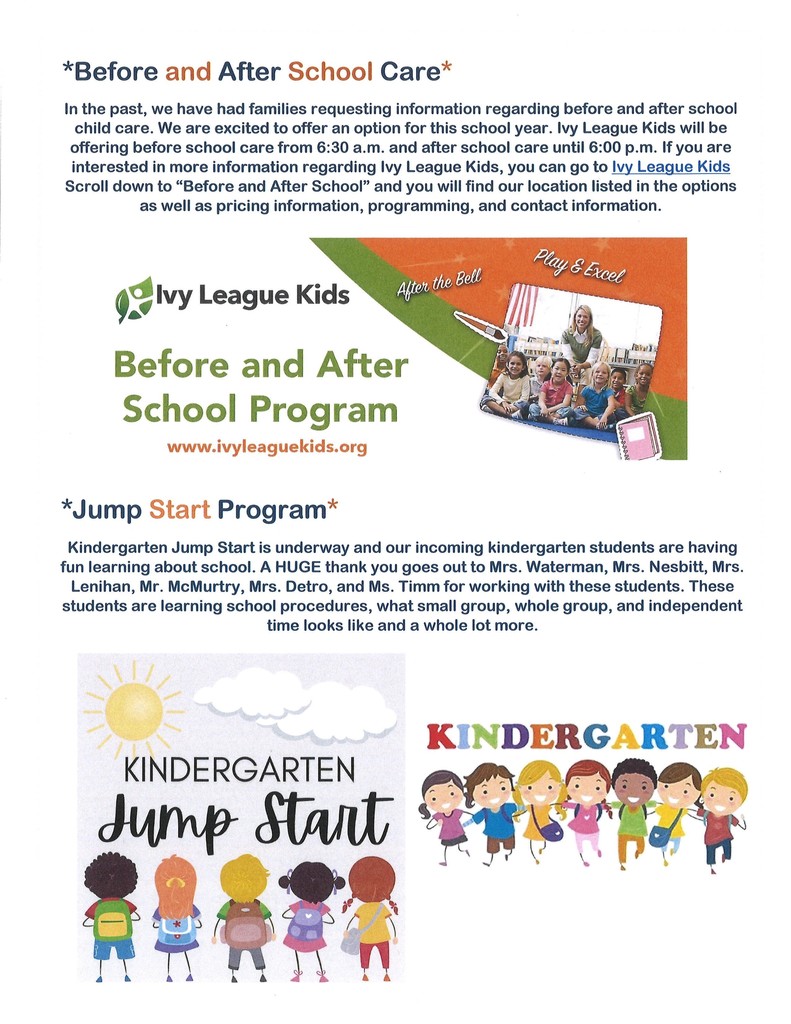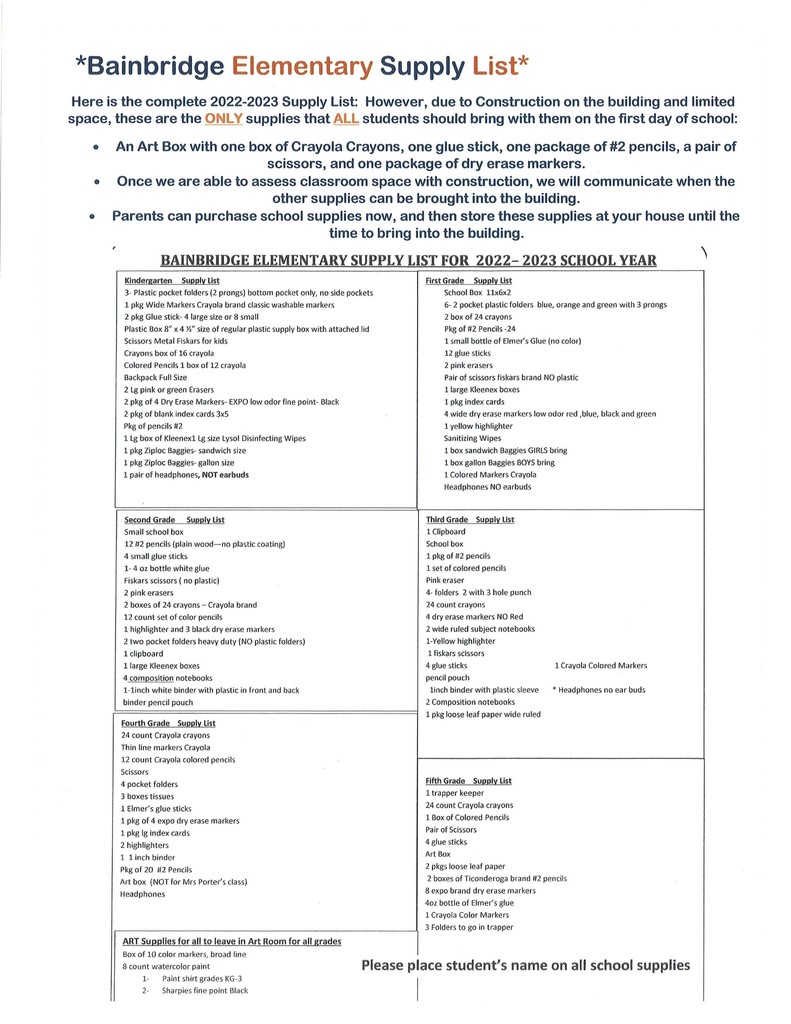 Good afternoon, Bainbridge Elementary parents, students, and other school community members. I hope you all are having a wonderful summer, and are enjoying this warm weather. Please allow me to introduce myself. My name is Brandon Wagler, and I am now the new Principal of Bainbridge Elementary. I have included a meet your principal flyer, so you all can get to know me a little better. I cannot believe that we are just a little over two weeks away from the start of this school year. I am super excited to be the next Principal of Bainbridge Elementary, and I cannot wait for this school year to begin. I have heard so many wonderful things about this school, and I look forward to meeting and working with all of you very soon. Please enjoy your last couple weeks of summer, and I will see you all soon. Bainbridge Elementary Principal – Brandon Wagler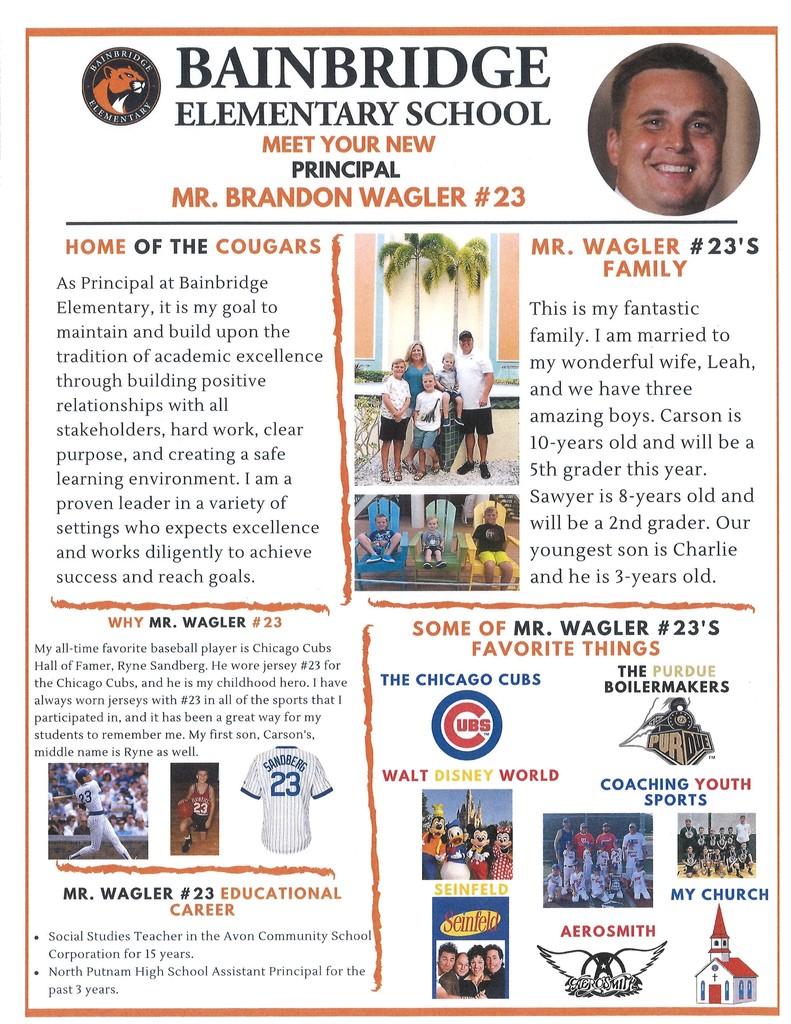 Current and new students join us for a Back to School Celebration from 4-7pm at the High School. Kona Ice will be there to cool you off. We will also be holding a job fair and accepting applications for our Support Staff.

Parents and Students new to North Putnam School Corporation-see the post for information relating to Student Registration in a centralized location.

Congratulations to Mrs. Jennifer Porter!! She is our first gift basket winner of the week. We thank her for her 27 years of teaching service to our students. Enjoy the gardening and bird feeders, Mrs. Porter.

Online Spirit wear store for Bainbridge Elementary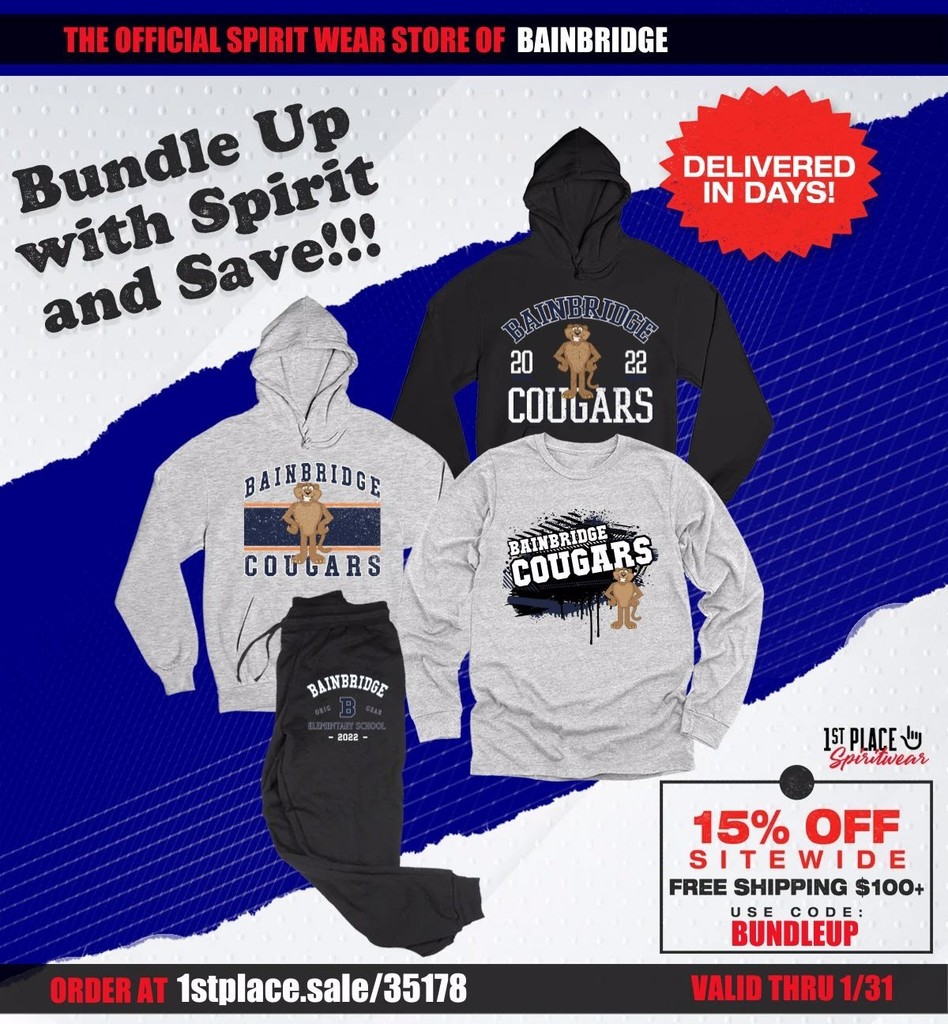 This morning at approximately 7:40 it was reported over the radio by a school bus driver that there was a gun on the bus. Safety protocols were followed, no students or adults were in danger at any time, and all students were delivered to school safely. The student was a lower elementary student who told another student he had a gun in his backpack. That student followed training and reported immediately to the bus driver who controlled the situation. As it turns out, the gun was a broken airsoft gun. Kudos to the students on the bus who did as they were taught and especially to the bus driver who handled the situation calmly and safely.

All North Putnam Schools will be on time as usual this morning. There was a widespread power outage this morning for most if not all of our community. Power is back on in all of our schools and most areas. We will be on time this morning with the buses running their regular schedule.

Help us celebrate Patriot Day Friday by wearing Red, White, and Blue!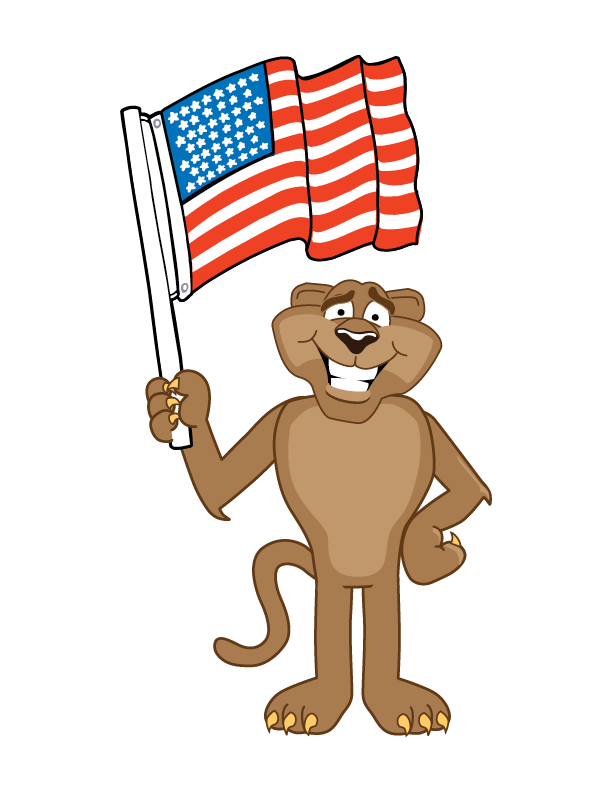 National Night Out is Monday August 2 from 5:00-8:00 p.m. at the Putnam County Fairgrounds. If you need a ride we will be taking a bus from North Putnam High School leaving at 4:30 p.m. Please call 765-522-6218 x603 to reserve a seat.