High School Athletic Events Monday 11/30/20 - Saturday 12/5/2020 Important reminder: Now that Putnam county is an "orange" county, tickets for winter events will be cash at entry with a 4 ticket limit per student athlete. Monday 11/30/2020 No HS Athletic Events Scheduled Tuesday 12/1/2020 B/G Swimming vs North Vermillion/Southmont - 6:00pm (no spectators)
https://www.youtube.com/c/northputnamtv/videos
Wrestling vs Tri-West - 6:30pm (4 tickets per student athlete) - HS Gym
https://www.youtube.com/c/northputnamtv/videos
Girls' Varsity Basketball @ Cloverdale - 6:30pm Wednesday 12/2/2020 No HS Athletic Events Scheduled Thursday 12/3/2020 B/G Swimming @ Speedway - 6:00pm (no spectators) Friday 12/4/2020 Girls' JV/V Basketball vs South Putnam 6:00pm (4 tickets per student athlete)
https://www.youtube.com/c/northputnamtv/videos
Saturday 12/5/2020 Wrestling @ Cascade 5-Way Duals - 9:00am (no spectators) Girls' Varsity Basketball @ West Vigo - 2:00pm (no spectators) GO COUGARS

Check out the Financial Aid Night presentation from Rachel McHenry from INvestEd Indiana. This event was held virtually last night, and recorded for our parents' convenience. Any parent/student interested in postsecondary study, and concerned about paying for it should watch this session.
https://youtu.be/EBm5MsgawOE

Monday's Financial Aid Night will be presented virtually. Information was sent to senior parents/students on how you can join the GoogleMeet with @INvestEdIndiana If you have questions, please contact the NPHS Office.

NPHS and NPMS have completed our state mandated intruder safety drill this morning. As part of our safety program students were instructed on ALICE yesterday and held a drill this morning.

Unfortunately due to the ongoing health pandemic, we will not be hosting a community Veteran's Day Program. Our NPTV Film Production crew has produced a short program that will be shown to each Engage class tomorrow to recognize the contributions our veterans had made to this great country. We will share this production tomorrow on the NP Facebook page for your viewing pleasure as well. North Putnam High School is extremely proud of all the young men and women who have left NPHS to go on to serve this great country by enlisting in one of the branches of the military. We hope that we can all gather again soon to celebrate our veterans and rejoice in the freedom that they have fought to preserve.
Good afternoon Cougar Nation, First, I wanted to say to everyone, thanks for being patient throughout the fall athletics season! Working through this current climate has been quite challenging. I would like to say that we are happy to finally have a solution for WINTER athletic sport passes with our new online ticketing system. We are offering winter sports passes for both adults and students. Each student pass comes with a pep club shirt (please see attachment). The winter passes are available now through December 1st. In order to purchase your pass, you will need to go to: secure.payk12.com. Once on the site: 1) Search North Putnam High School. 2) In the top left corner, select: Passes & Season Tickets. 3) Choose Adult or Student Winter Sports Pass ***At this time, we will not be having spectators at home swim meets. Only volunteers, coaches and student athletes. Our hope is to livestream home swim meets. ***Also, please be aware that in this current environment there may need to be some capacity adjustments going forward throughout the winter. If that situation happens, we will be working off of a refund schedule based off of the time of the year. If you have any issues purchasing a season pass, please contact the athletic department. Thanks for your patience and GO COUGARS!

A HUGE congratulations goes out to the Students of the Month for the month of October. These students were nominated by a faculty member, and have really made a positive impression on someone here at NPHS. Great job and keep up the fantastic work! Brandon

A HUGE congratulations goes out to North Putnam High School students, Megan Earley, Grace Elmore, and Dane Spencer for their excellence in academic achievement. These three students were named as a Rural and Small Town Scholar by College Board National Recognition Program.

The Annual Coats For Kids will be held on October 24, 2020 at the Putnam County Fairgrounds Community Building.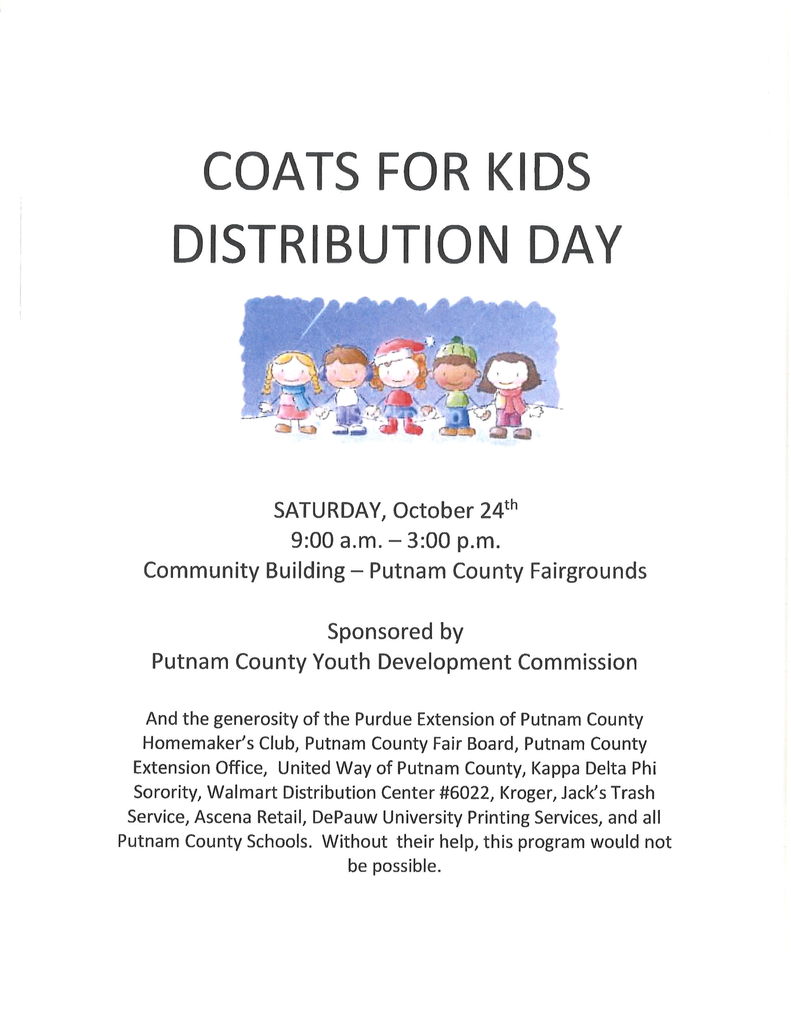 Retakes for underclass portraits for the yearbook will be on Thurs. Oct. 22. If you purchased a package, bring that package back for retakes. If you were absent before, please come when called for retakes. Virtual students will have their retakes done between 10-11 a.m.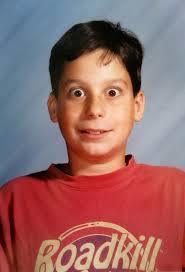 For parents who are participating in the meal pick up service, the new hours will be 1:45 p.m. to 2:15 p.m. still at Door 1 at North Putnam High School.

A huge congratulations goes out to the NPHS September Students of the Month. Keep up the great work!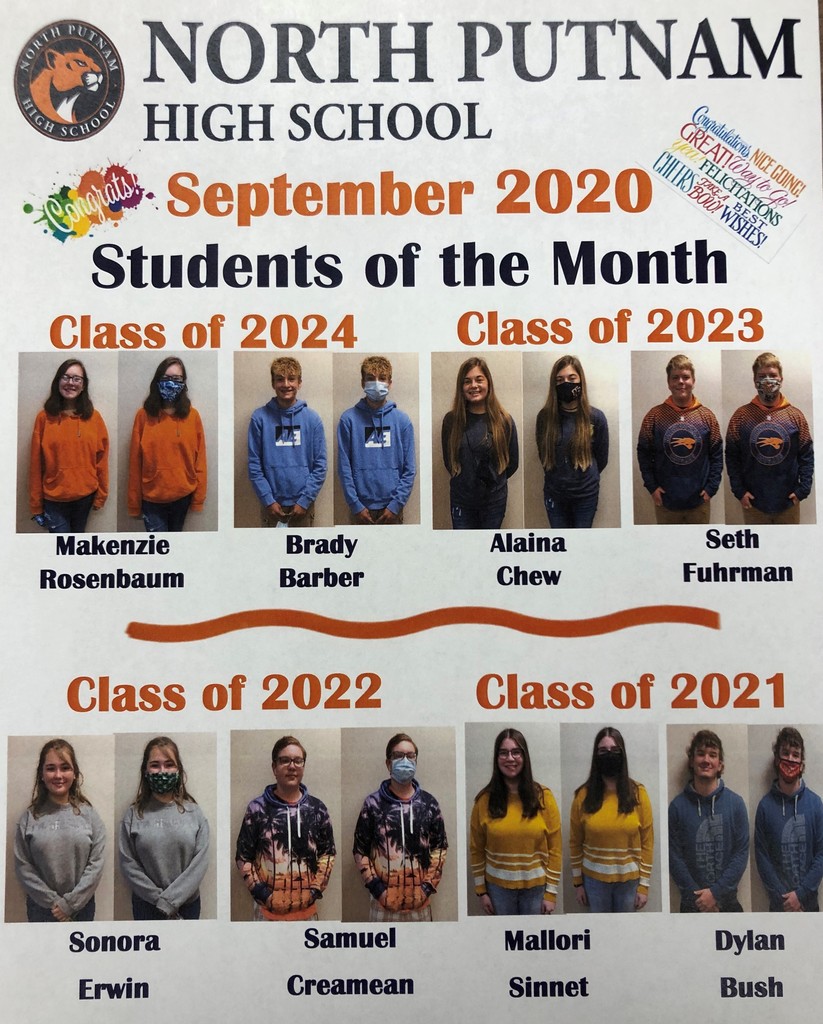 We love our custodial staff at NPHS! We really appreciate you!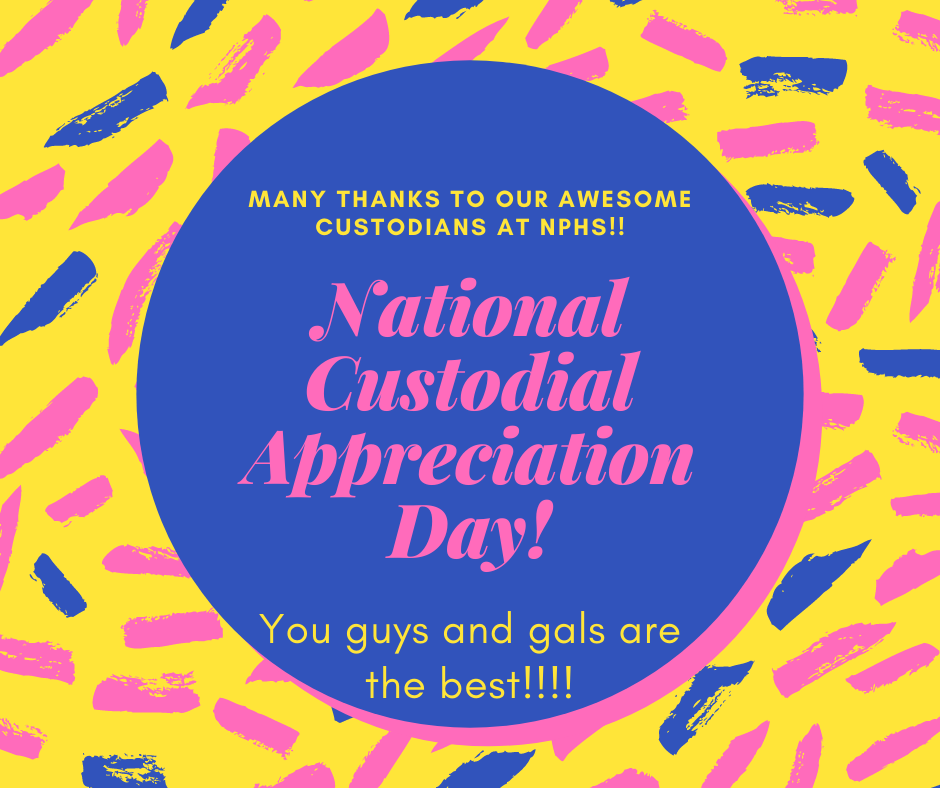 Gates open at 6:00 PM tonight for the Varsity Football contest. Tickets are available online and at the gate.

There is a great turnout tonight at NPHS for our College Informational Night. A huge thank you goes out to Mrs. Karen Heavin and Heavin College & Career Readiness Services for leading this wonderful seminar.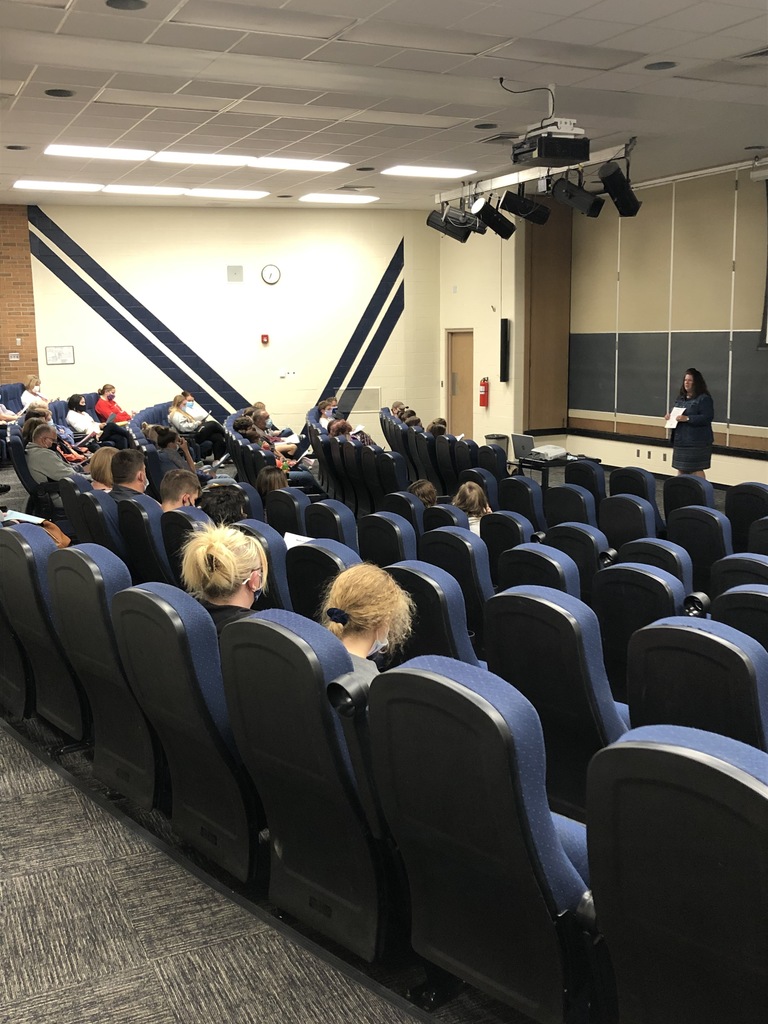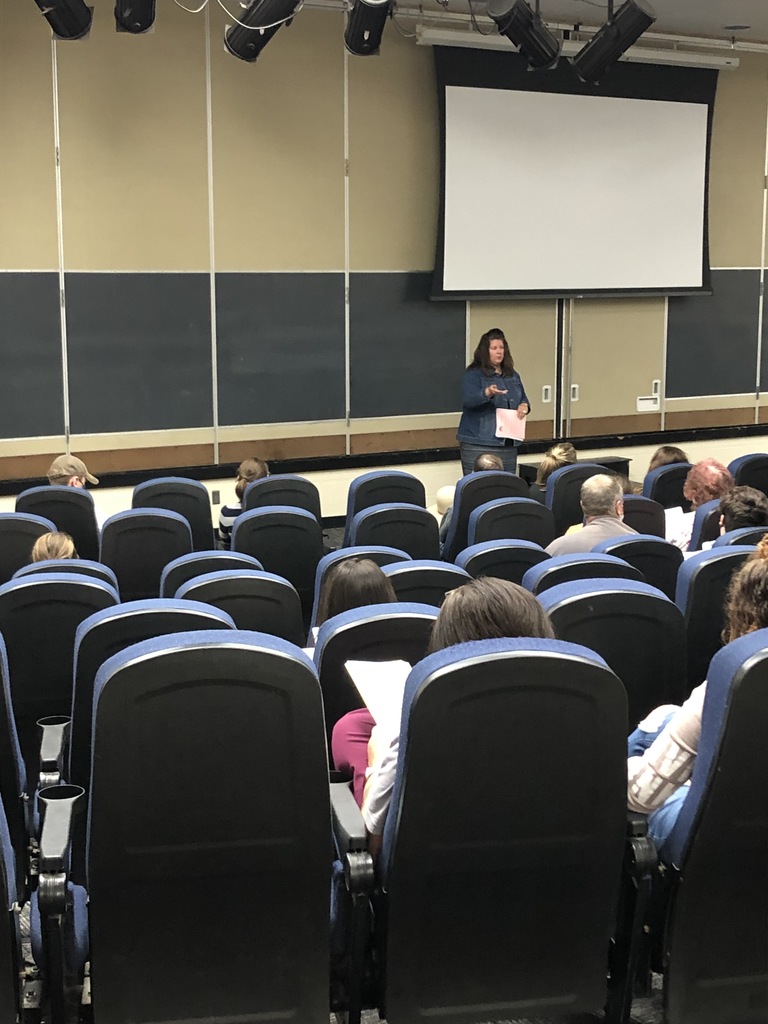 Attention Juniors, Seniors & Parents/Guardians, College Information Night is scheduled for Wednesday, September 30th, at 6:00pm. Karen Heavin, from Heavin College & Career Readiness Services, will be at North Putnam to share information with college bound students and their parents about the college process. Please make plans to attend if your future plans include college!
Good afternoon Cougar Nation, We look forward to an exciting Homecoming football game this Friday. Please find the link for tickets available here:
https://secure.payk12.com/school/North-Putnam-High-School/598/events
For now, we still have a 250 capacity in the home stands and 100 seats in the North End Zone. However, we are awaiting approval from the Putnam County health department to remove the seating restrictions. Once we receive approval we will open up the seating to general admission. We look forward to seeing you at the game!


Check out our new app in the Apple or Play store. You will find a wealth of information with a quick few taps.